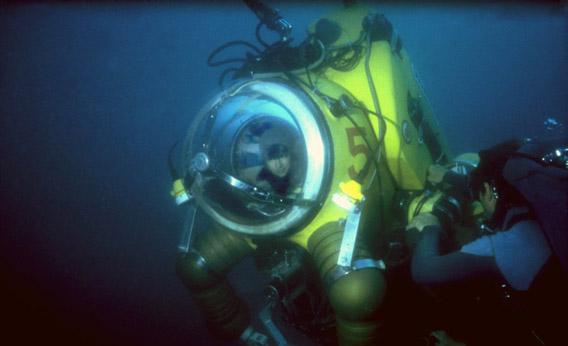 Dr. Edie Widder, President and Senior Scientist at Ocean Research & Conservation Association (ORCA) inside the deep diving suit WASP. Courtesy of ORCA
Deep-sea biologist Edith Widder was working on a ship positioned off Japan?s Ogasawara Islands when Wen-Sung Chung asked her to step into the lab to see something. Cameras followed her as she got up. This was not unusual, since the Japan Broadcasting Commission (NHK) and the Discovery Channel were funding the expedition, which was being conducted from a research yacht named Alucia leased from a billionaire hedge fund owner. Chung was nonchalant, so it didn?t occur to Widder that she was about to see the culmination of a quest that has driven ocean explorers for more than a century. She thought maybe it was going to be video of a cool shark.
The purpose of the expedition was to capture footage of the enigmatic giant squid in its natural habitat. The animal can grow to 35 feet or longer, and its eye is as big as your head. But it lives about 1,000 feet below the surface and deeper, and it had only been glimpsed a few times at the surface and photographed alive once.
Widder is a world expert on bioluminescence, the light that countless marine animals use to communicate, especially in the dark world of the deep sea. For years she?s been studying how the deep?s bizarre inhabitants use the light. Some animals use it to lure a mate, others a meal. And she suspects that certain jellyfish pulse with bioluminescence when they are getting attacked. It?s a last-ditch attempt that works sort of like a burglar alarm to bring in something even bigger to attack the attacker.
Widder has spent months of her life underwater, at times piloting submersibles. For years, she has argued that scientists were getting at best a tilted view of the wonders of the deep sea. By going down with robotic vehicles or in submersibles with lights blazing, she and others have reasoned, they were scaring lots of good stuff away. Deep-sea animals barely see any light, so a typical submersible dive is the equivalent of coming into a darkened theater and shining a spotlight at the audience. Everything bolts.
Years ago, on a shoestring budget, she and her team built a deployable system that included a low-light camera and dim red lights, which most deep dwellers can?t detect. (Their eyes are tuned to blue wavelengths, which travel farther through water.)
Then she added bait. The system, called Eye-in-the-Sea, is fitted with a device that mimics the ring of blue lights fired in a marquee pattern by certain jellyfish?the ones she thinks do the burglar alarm trick. She deployed the system for the first time in the Gulf of Mexico. Just 86 seconds later, a large squid darted into view; it was a species new to science.
Widder brought a more advanced version of that system, dubbed Medusa, aboard the Alucia. She hoped the secret weapon would attract a giant squid. They hung it about 2,300 feet down from a surface buoy and left it running for hours.
Watch the Pulsing Deep-Sea Lights of Bioluminescence

The giant squid has been the stuff of legend for about as long as people have sailed across oceans. Aristotle and Pliny the Elder described what may have been giant squid, which occasionally wash ashore or end up in fishermen?s nets, and the species is thought to be the origin of the Norwegian kraken myth.
Countless groups in past decades have tried to manufacture giant squid encounters, investing millions, getting all the best advice from the experts, only to come back as failed crusaders. One of the other scientists aboard the Alucia, Tsunemi Kubodera of Japan?s National Museum of Nature and Science, has been hunting giant squid in these waters for years. He managed to capture some still images of one giant squid and video of another after it was caught and brought to the surface. But none of that could compare to video of the animal alive in the deep, a view that would finally allow scientists to begin to understand the mysterious animal.
The expedition has not released expense figures, but it must have cost millions. When Chung, a graduate student at the University of Queensland, brought Widder into the lab and started fast-forwarding through the video, the scientists were already a week into a six-week expedition with nothing significant to show. Producer-types were growing tense.
Source: http://feeds.slate.com/click.phdo?i=d453925ac18ef942f7820e454fc1209d
hunger games premiere red meat bachelor ben good morning america jon hamm jon hamm kim kardashian law school rankings