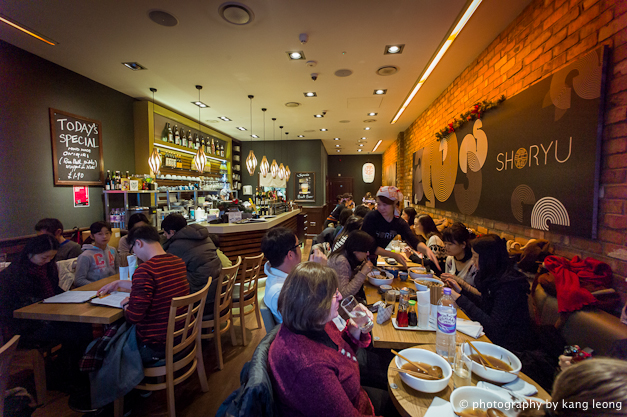 All signs indicate that we are about to witness the second emergence of ramen in London; But this time, perhaps with less national franchise designs, and more of a focused effort on being small scale, independent, an identity differentiated by quality recipes.
You already know about the pioneering ones namely Tonkotsu and Bone Daddies. Soon, Tim Anderson (past Masterchef Champ) will throw his new baby, Namban, into the fray sometime later this year. You have probably also read of the exponential rise in standards as these guys continue to tweak their maturing bowls of water, bone & flour, based on their collective experiences. Each has already dug a nice corner of the market for themselves, thanks in part to our ongoing, unquenchable appetite for the one-plate specialists.
Shoryu comes by way of Japan Centre, the long time importer of everything Japanese, which has long sold fast Japanese food from their (relocated) Lower Regent Street grocery shop and their restaurant Toku. If I?m not mistaken, they also operate a satellite outpost in Westfield Stratford, which sell takeaway noodles & fried bites under the Shoryu banner.
Fukouka born chef Kanji Furukawa is the point-man for Shoryu, practicing the Hakata style which originates from his native Kyushu. His soup base is a tonkotsu (pork bone) broth, identified by a milky appearance and use of thin, uncurled noodles.
My first visit to Shoryu was in December and the 2nd visit was early Feb 2013, both times we thought the noodles were quite wonderful. While it reminded me of my trip to Japan last Autumn, admittedly, paled in comparison to the experiences we had in Kyoto and Tokyo.
Yuzu Tonkotsu, ?10.40.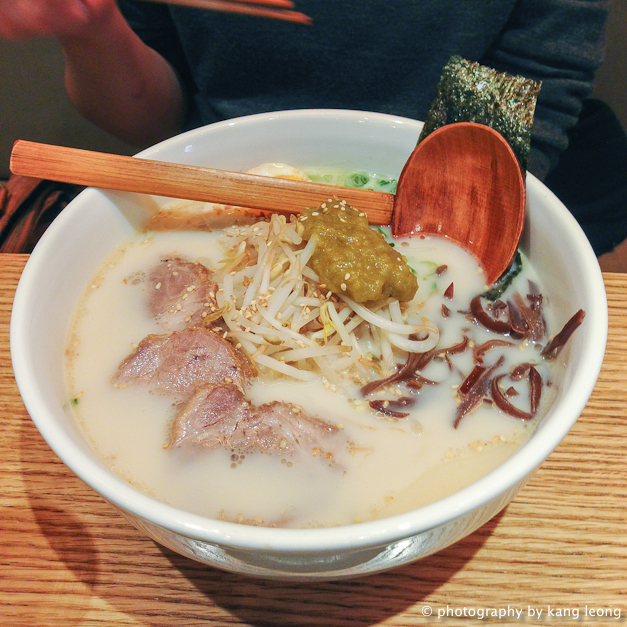 And so, it is milky in appearance, creamy to taste and very smooth. To my untrained palate, this was absolutely divine.
While some of you love the saturated fatty, heavy taste of unsieved, liquidised bone marrow, I for one find it difficult to drink a bowl of it. Saying that, some may find the Shoryu broth to lack depth, but for me, I prefer it because it isn?t over-extracted marrow, fat, and I think less is more in this regard.
I really enjoyed this smooth broth with no bits, and the yuzu infusion was thrilling stuff. I thought the spicy yuzu paste gave the soup a nice acidic tilt with zesty fragrance and at the same time hitting the palate with a chilli kick.
I read that some blogs talked of a crocked charsiu recipe, but I thought it was pretty tasty. Although on the 2nd visit, the charsiu came cubed rather than thinly sliced (in the Charsiu Tonkotsu), cubes of wet pork belly with more fat than lean meat, didn?t go down as well.
One thing I would say about the yuzu broth is that once I hoovered up all the meat and noodles, the soup on it own gets bitter. Too much zest perhaps, but that?s just a small critique. Otherwise, it?s a bloody good recipe.
Tokyo Shoyu, ?8.00.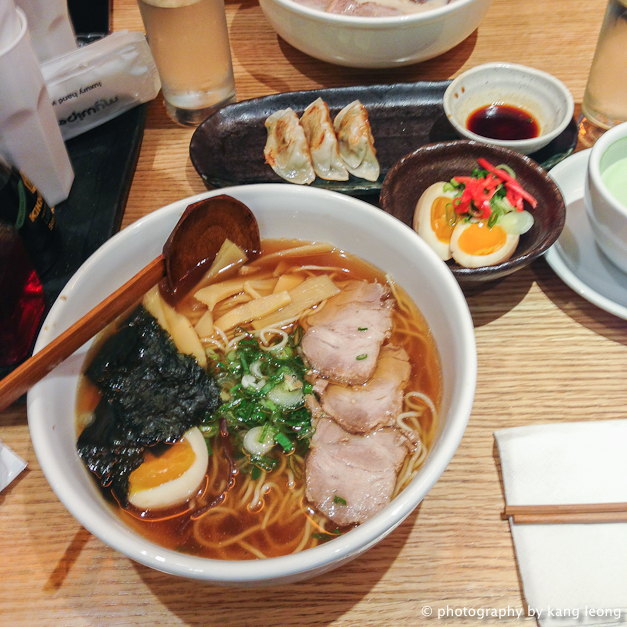 The Tokyo style, soya based soup was also delicious, but I think the yuzu tonkotsu is a far more interesting dish. The soft boiled eggs here are adequate, but I think the ones over at Tonkotsu?s Burford Browns have the edge.
Side dishes weren?t ready when Shoryu opened last year, but were offered on my 2nd visit.
I?m Chinese so I love my rice and truthfully I prefer it to piping hot noodles. The reverse is true for the better half, whose Taiwanese roots have hardened her tongue to withstand soups served at boiling temperature.
Shoryu Genki Mushi, ?4.90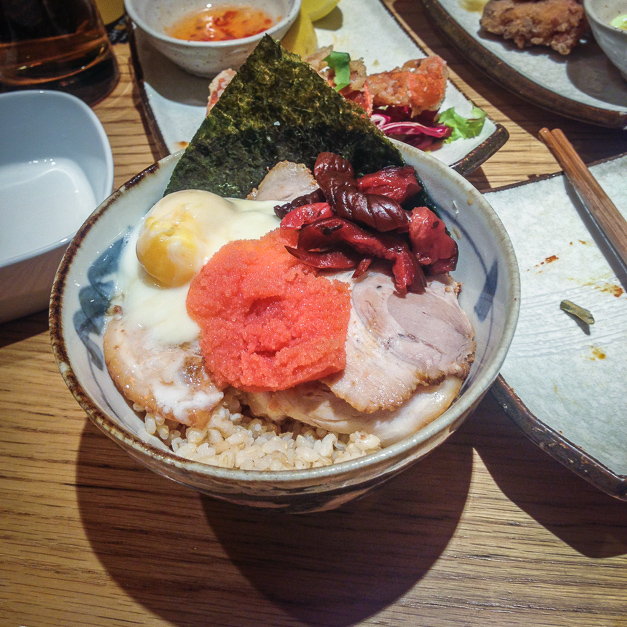 Brown rice, charsiu, mentaiko fish roe, soft white with hard boiled yolk, pickles and nori seaweed ? and at a nice price too.
This may appear a simple recipe, but I believe it is one that relies on the quality of its most fundamental components to be on point. When it all comes together, it can really be a gorgeous bowl of food. While I think this is adequate in its own right, sadly it paled in comparison to the version I had at Ippudo in Kyoto.
The Ippudo version?s far superior pork, fluffy & pure rice with a lovingly cold onsen egg with a gentle running yolk was certainly a class apart. For around 350 yen (?3.). I know it?s unfair to compare London to it?s native standards, but hey ho, such is food?s relative subjectivity and personal benchmarks right?
The next time I?m back to Shoryu however, I?m going for a soft poach with a runny yolk with white rice.
Mention good, but white rice and runny yolk.
Chicken Kara Age, ?5.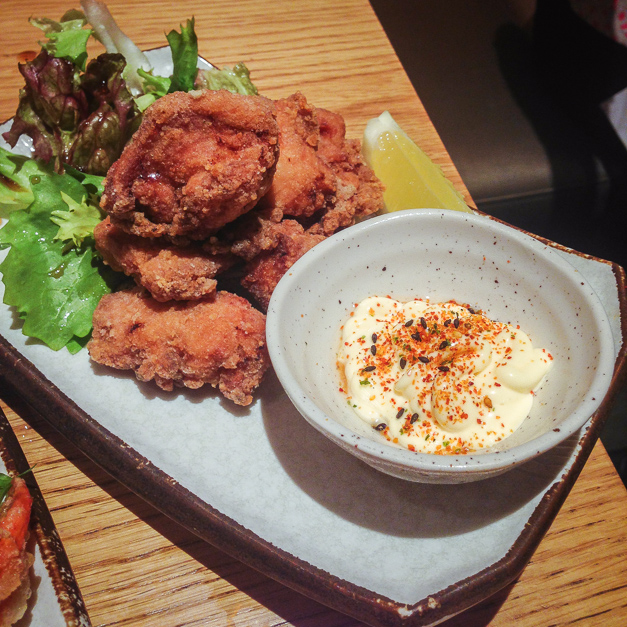 Soft-shell Crab Kara Age, ?6.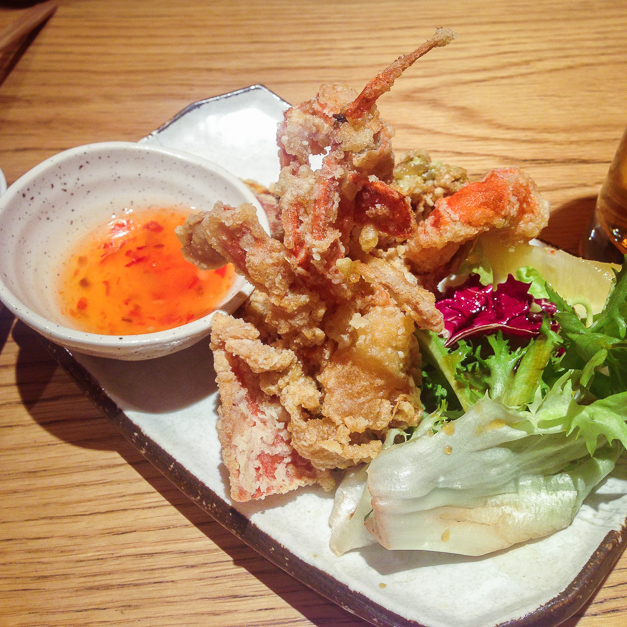 The crab was great, while the chicken was a little too salty, but generally the fried dishes has it?s heart is in the right place. Big portions, the crab looks like its fresh and whole.
Hirata Buns, ?6.
I loved this. Some might take the opinion that the dough is too sticky, too rich, maybe even a touch under-steamed. A little on the queasy side and perhaps too generous with the mayonnaise, but I love it for exactly those reasons. These were pockets of sinful indulgence which I really enjoyed.
Gyoza, ?5.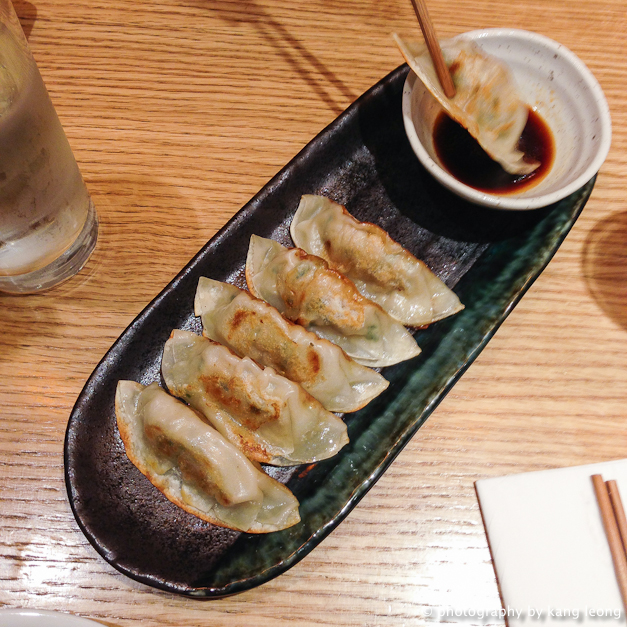 Oh and the gyozas are pretty good as well.
Matcha Mochi, ?3.50.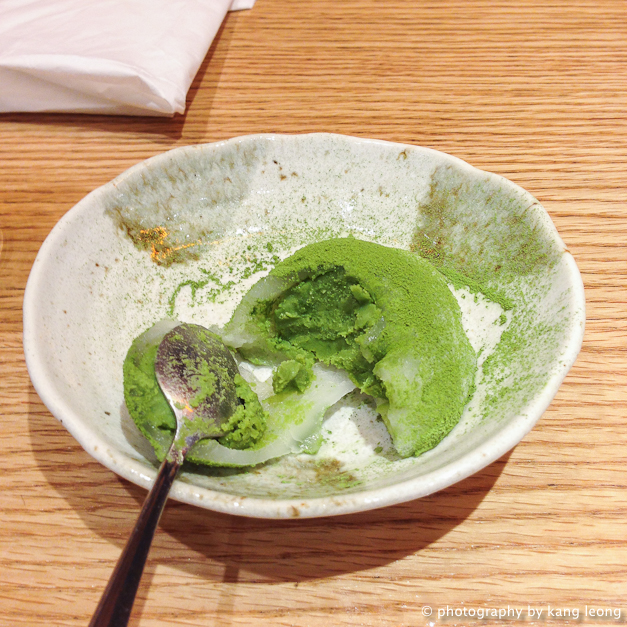 The ice creams are own-made apparently, they taste like matcha infused white chocolate to me, even if it took a bit of time for it to defrost on the table.
We paid ?36.63 on 1st visit and we paid ?39.82 on the 2nd visit, both was a meal for two.
I am truly delighted to see this rise in Asian one pot meal coming into the spotlight. Shoryu does remind me of the (global) Ippudo chain, itself merely a benchmark for ticking the basic boxes, and I suppose this is a version of Japanese fast food. Over there, pre-pay machines have replaced the post-meal bill, like pre-paying for cinema tickets, and take no reservations. While I was in Tokyo, there seemed to be a noodle bar at every other street corner. Some entertained long queues, and we joined in based on the social proof, other times we just ducked into the nearest one when we felt peckish but we never ate a bad bowl of noodles. Broths over there seem to carry more depth and this standard seemed the norm over there, or so it was to our unseasoned palates. It?s pretty obvious that London ramen has a lot of catching up to do, but I do think Shoryu and its peers have set off with the right intentions and the product so far is great. The bottom line is that this is comfort food pieced together with solid recipes, good ingredients and sold at competitive prices. More please.
So ?.how long before we get tsuke-men then?
Details
Shoryu
Ramen, ?18pp
9 Regent St SW1Y 4LR
Tube: Piccadilly Circus
Did you enjoy reading this? You can subscribe to the Newsletter. Alternatively, you can subscribe to the RSS feed.
Tags: london, picadilly circus, ramen
Source: http://londoneater.com/2013/02/04/shoryu-ramen/
heidi klum and seal divorce craigslist killer extremely loud and incredibly close south carolina primary squirrel appreciation day billy beane road conditions